Ok, This is how it works:

To put it simply, Nebula produces alot of music. The music is uploaded to the Beats365 members section, so when you "join" as a member, you get to download all of the beats and sounds. Nebula: All I ask in return is that you print my name on the cd or liner notes, let them know that nebula did some production for you.

You know those box sets you can buy in the music store and they contain 10 cd's? Well Beats365, (The site you are at right now) ....is alot like that, except instead of 10 cd's, you get an unlimited amount of original instrumentals produced by one of the world's most innovative modern producers. Beats365 offers you one product: enough beats and sounds to fill 50 cd's. You also will recieve the phone numbers and contact information of all your favorite record labels, Aftermath, BadBoy, all with a Beats365 membership.

Beats365 is solely designed and run by Music producer J. Lewis a.k.a Nebula (One.)
J has been in the game for a long time and holds down one of the most diverse production and publishing companies on the internet. Nebula has composed music for movies, commercials, major artists and been doing it for almost 20 years. Beats365 is now a CT company offering you a package of hundreds of beats you can download, burn, and produce music with, then sell your music and go all out with it. Sell as many copies of your cd (Using my royalty free beats) just let everyone know who wrote your instrumentals. What you need to do is, sign up, download, do whatever you want with Nebula's royalty free beats but put my name on the CD liner notes giving recognition.


Here is how to get started:

You Are Going To Receive Unlimited Access

to the BIGGEST

ROYALTY FREE

HIP HOP BEATS AND AUDIO DATABASE EVER!

*YOU can DOWNLOAD as many of our tracks as you like, as many TIMES as you want, and record your battles online with other members! All this for a ONE-TIME fee of $29.95. No catch, no recurring fees and NO LIMITS!


*YOU WILL RECEIVE EVERY TRACK you have heard so far on this site, and HUNDREDS more are JUST AS HOT!


The BEATS are High-quality and UNTAGGED -(Without the girl's voice).
YOU WILL GET OUR ENTIRE PACKAGE OF BEATS AND MEMBERSHIP FOR ONLY $29.95! AND THAT'S A ONE-TIME FEE!
PAY WITH A CREDIT CARD OR PAYPAL!

| | |
| --- | --- |
| | Instant Access, Discreet Billing, Secure Procedure. |

No Hidden Charges.
You will NEVER be BILLED Again.

ONLY $29.95!
(For a limited time)

We Are With #1 Trusted & Reputable Clickbank
Members of my site can also reach me on my phone with AIM. If you have any questions, they can be answered
here.
We also upload new tracks and new resources to our database. I'll say it again!
-
IT IS 29.95 FOR THE WHOLE THING!

You
dont have to
pay for each beat. -You get all of them. I'll see you in the Database section.
CLICK HERE for this week's BEATS.
YOUR REGISTRATION GIVES YOU FULL ACCESS TO :
Every Rap beat, Audio Clip, Hip Hop, R&B and Reggae Instrumental on this site, Beats365.

Hundreds upon hundreds of the hottest beats and instrumentals, including ALL of the beats available for preview on the search feature, and more! 100's of Beats and new beats uploaded to the database!

Sound effects, drums, guitars, strings, and synths

1000's of the hottest sounds that we use to make beats, including original drum sets, strings, sound effects, backgrounds, audio snippets and more!

Industry listings database

We have had 20+ years in the industry and have gained access to the the worlds most exclusive and exquisite industry conferences, parties and directories, only to present all the information to our members.

Beats365 Community
3000 members have benefited from our industry insight, and we continue to upload new beats every week!

Get Signed
Participate in our artist screenings and A&R forwarding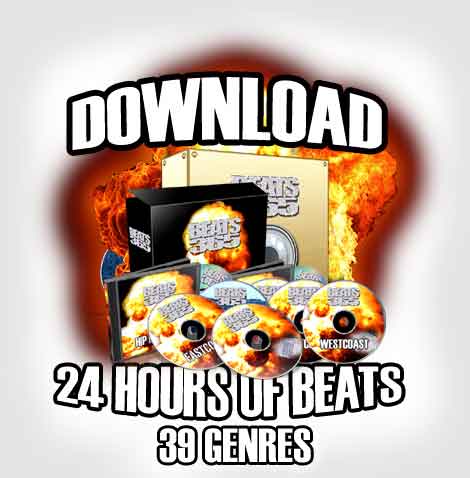 | | |
| --- | --- |
| 100% secure order form | |
Normally $59.95
Special Price
ONLY $29.95
ONE TIME FEE


Purchases securely handled by ClickBank, our authorized sales agent.

Copyright © 2006 Beats365.com. All rights reserved
Beats365, LLC
55 Mill Plain Rd,
Danbury, CT 06811